Gelatin
One ingredient, many possibilities
Gelatin is a diverse ingredient with endless application possibilities, making it an ideal solution for your product.
Based on global trends, Gelnex is always expanding our product portfolio and specifications, offering new opportunities and experiences to our customers.
Our products serve the food and pharmaceutical industry, as well as other technical segments.
We can customize your gelatin to meet specific demands so that your final product can achieve the best performance and quality possible. We have the expertise to provide technical advice for the most diverse products and industries.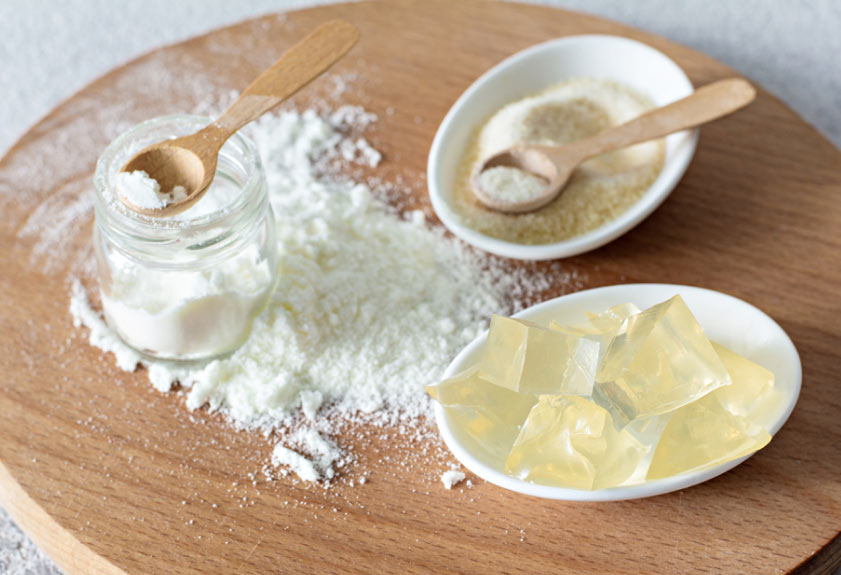 Our gelatins are specially tailored to help
your product reach its best potential
Fat and carbohydrate free
High quality, traceable raw material
Our custom solutions allow our customers to make the best ingredient choices for their products.
The ingredients we manufacture are available as bovine or porcine, allowing for versatility in a wide range of applications and products.
Learn how gelatin can improve your formulation:
Forms firm and elastic gels;
Forms and stabilizes foams;
Has stabilizing and emulsifying properties;
Forms films that melt at room temperature;

Bovine gelatin

Porcine gelatin

Gelatin for specific markets
Contact Us
Consult our sales team and learn how our solutions can bring advantages to your products.
Learn more
Applications
With modern facilities and a trained technical team, we offer solutions for all applications.
Desserts
Bring a consistent and supple texture to desserts with gelatin.
With gelatin, you can produce desserts with a smooth, melt-in-your-mouth texture, that gradually release flavor.
Dairy
Gelatin aids in stabilizing dairy products, preventing the loss of moisture and optimizing texture.
With gelatin, you can reduce the fat content without comprimizing texture.
Capsules
Gelatin forms thermo-reversible films (films that melt at body temperature), making it the perfect product for capsule production. The different gelatin blooms make it flexible for use in soft gels or hard capsules.
It provides an excellent packaging for medication, increasing its stability and bioavailability.
Meat
Gelatin provides stability to meat products, sausages, emulsions, and canned products due to its emulsifying properties.
It adds protein value to the product as a natural source of protein, reduces fat content, and optimizes texture.
Beverage clarification
Gelatin can also be used as a filtration agent, optimizing the sensory characteristics and visual clarity of drinks such as wine and juices.
In this case, gelatin offers texturizing properties. When incorporated into a drink, gelatin reacts with polyphenols and proteins, forming a precipitate that settles, removing undesirable particles.
Aerated products
Gelatin facilitates the formation and stabilization of foam, prevents sugar from crystalizing, and brings a soft and light texture to products.
Candy and confectionery
Candy containing gelatin has unique characteristics that only gelatin can bring to a product, such as shine and transparency, and chewy texture.
It also provides important texturizing and stabilizing properties, allowing for the emulsion of water and oil.