Gelatin
One ingredient, many possibilities
Gelatin is a diverse ingredient with endless application possibilities, making it an ideal solution for your product.
Based on global trends, Gelnex is always expanding our product portfolio and specifications, offering new opportunities and experiences to our customers.
Our products serve the food and pharmaceutical industry, as well as other technical segments.
We can customize your gelatin to meet specific demands so that your final product can achieve the best performance and quality possible. We have the expertise to provide technical advice for the most diverse products and industries.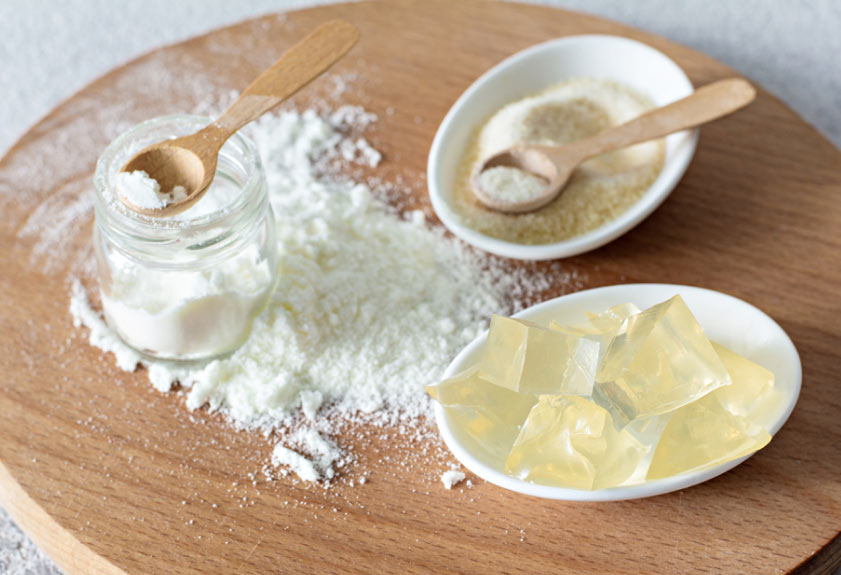 Our gelatins are specially tailored to help
your product reach its best potential
Fat and carbohydrate free
Allergen and additive free
High quality, traceable raw material
Our custom solutions allow our customers to make the best ingredient choices for their products.
The ingredients we manufacture are available as bovine or porcine, allowing for versatility in a wide range of applications and products.
Learn how gelatin can improve your formulation:
Forms firm and elastic gels;
Forms and stabilizes foams;
Has stabilizing and emulsifying properties;
Forms films that melt at room temperature;

Bovine gelatin

Porcine gelatin

Gelatin for specific markets
Contact Us
Consult our sales team and learn how our solutions can bring advantages to your products.
Learn more
Applications
With modern facilities and a trained technical team, we offer solutions for all applications.
Desserts
Dairy
Capsules
Meat
Beverage clarification
Aerated products
Candy and confectionery